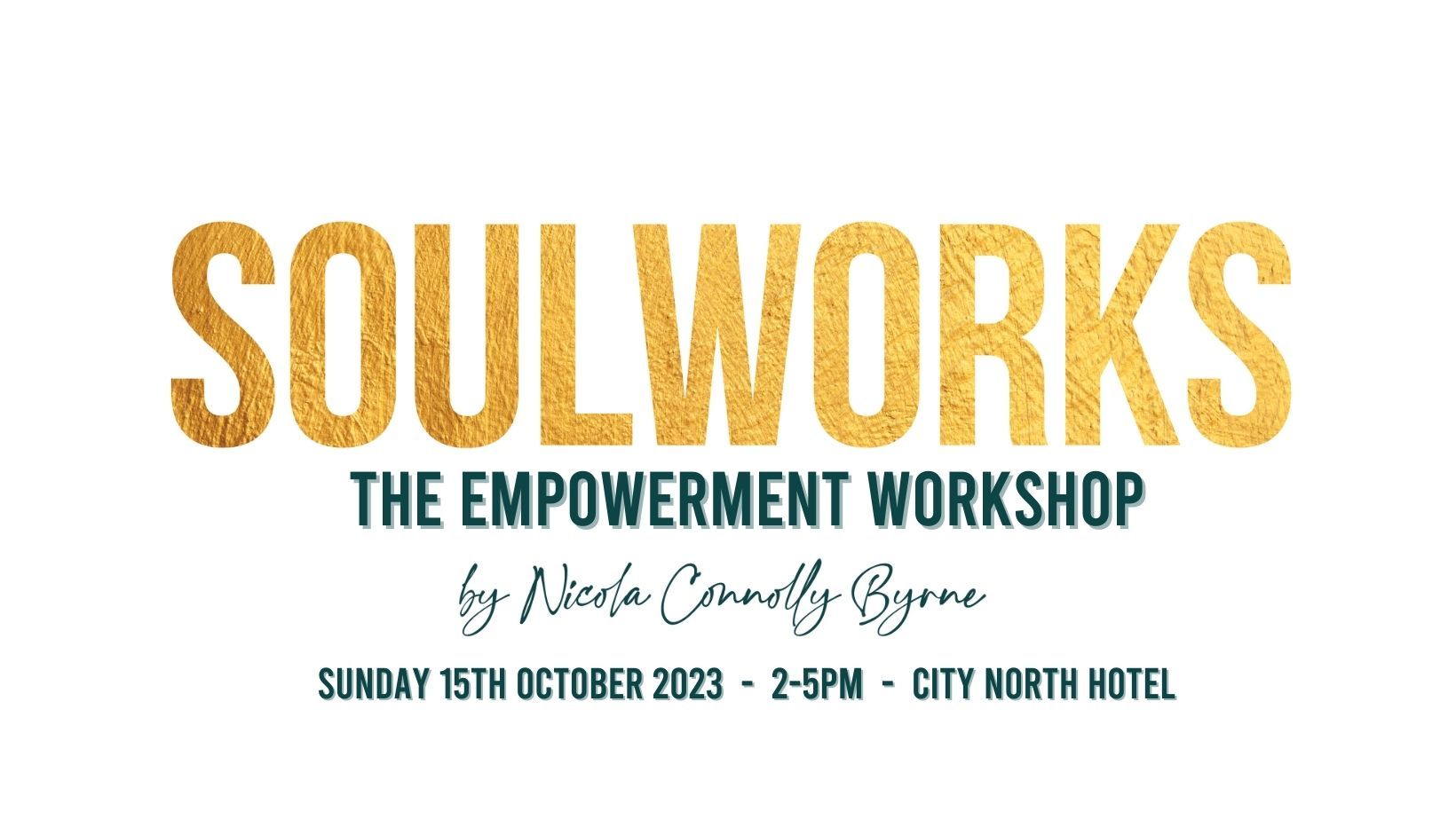 Discover the Power Within: SOULWORKS - THE Empowerment Workshop
Are you ready to reclaim control of your life?
Release the expectations imposed by others and embrace your true self for inner peace.
Instead of constantly seeking approval from others, learn to prioritize your own needs.
Banish the fear of judgment and discover how to embrace your authentic self with love and acceptance.
Replace the hesitation to say "no" to others with the ability to say "yes" to yourself without guilt.
Don't let others define your worth – it's time for you to determine your own value.
Escape the draining presence of negative energy and master the art of establishing your personal boundaries for protection and happiness.
Join me on a transformative journey where I'll share invaluable tools and insights with you in person!
Date: Sunday, October 15, 2023 Time: 2:00 PM - 5:00 PM Location: City North Hotel (Conveniently located just off junction 7 on the M1, along the Dublin to Belfast route, past the Airport)
Let's embark on the path to a brighter, more empowered life together!
SOULWORKS - THE Empowerment Workshop IS FOR YOU TO TAKE BACK CONTROL OF YOUR LIFE!!!
Let go of who you THINK you are supposed to be for other people and embrace who YOU ARE for your peace!
What to Expect on the day:
✨ Rediscover Your Identity: Unearth the true 'YOU' buried beneath the roles of motherhood and a full-time career.
✨ Overcome People-Pleasing Habits: Learn to set boundaries without guilt, and say 'NO' when it matters most.
✨ Balance & Time Management: Gain practical tools to efficiently manage your time and responsibilities.
✨ Boost Self-Confidence: Develop unshakable self-belief to conquer your goals and ambitions.
✨ Connect & Network: Build a supportive community of like-minded women who understand your journey.
🔥 Why You Can't Miss This Workshop: Discover the keys to being a nurturing parent while nurturing yourself.
💼 Elevate Your Career: Supercharge your professional life without sacrificing your personal well-being.
💪 Embrace Your Strength: Transform from people-pleaser to assertive leader.
🌟 Unleash Your Potential: Ignite your passions and create a life that radiates fulfillment.
🎁 Exclusive Bonuses: Opportunity to join our Soulworks community to continue the work at a special offer to ticket holders only!
Learn how to be authentically YOU - without guilt in this No-BS Workshop!
Sunday 15th October 2023
2pm-5pm
City North Hotel
(Just past the airport on the M1 exit 7)
I am excited to present this transformative workshop, offering you the essential tools to wake up and regain control of your life. This program is specifically designed to empower you to take charge of your circumstances, once and for all. It's time to break free from the grip of fear and reconnect with the genuine desires and the life you truly deserve.
If you persist in battling your excuses, limitations, and fears, they will continue to dominate your life, keeping things as they've always been. Many women reach a point where they believe their opportunities have passed them by. I'm here to emphatically state that your opportunities are still very much within your reach. In fact, you are the captain of your own ship, and you determine the course!
No longer will you be shackled by the past or by others' expectations. My tools will enable you to live authentically and embrace the remarkable person you are destined to become. These events are designed to cultivate inner warriors who can unlock new doors and opportunities for themselves. Remember, in this journey, you are your own hero. There is no one coming to rescue you. By following my proven blueprint, you'll discover the pathway to personal success with tangible, guaranteed results!
About me: Your Personal Empowerment Specialist
I am Nicola Connolly Byrne, a renowned and multi-award-winning Empowerment Specialist dedicated to assisting women in discovering their authentic voices, building unshakable confidence, and establishing healthy boundaries.
My journey has been a vibrant tapestry of experiences surrounded by narcissism, addiction & violence. I have survived and now thrived through every traumatic experience I was subject to. At one point, I was consumed by fear and crippled by self-doubt, feeling as though I was drowning in chaos. But I took control of my life, leaving behind the "Sad Story Olympics" and transitioning from being a victim to emerging as victorious. And now, I'm here to guide you on the same transformative journey. No one person or experience defines me. I define me, I decide the quality of my life and my value. I decide the boundaries and culture I accept in my circles.
My superpower is honesty, delivered with love. I am fiercely committed to standing by your side, advocating for your success with my team, and helping you reach the destination you desire. It's essential to understand that you are already enough and perfect as you are. Our journey together is about refining and reconnecting you with your true self, your SoulSelf!
"From the personal greeting at the door, the atmosphere in the room. The safe space. The amount of learning that occured! It was just light bulb after light bulb! I have pages of notes to apply into my life. I feel like I have been injected with energy like I have never felt before. I feel fully awake for the very first time. Nicola I can't thank you enough for giving me the tools to get my life back!"
"I had no idea it was possible to unravel all of this, to identify where those (limiting) beliefs came from in the first place, to learn new positive ways of thinking and being able to move forward, applying new tools to the next stage of life. This workshop was unreal! I feel in control and ready for anything that life throws at me! Bring it on! I am ready"

Pause and Reflect for a Moment: What Could You Achieve Without Fear?
Fear often confines us, limiting our potential and preventing us from realizing our true capabilities.
Now, consider this: What if you allowed yourself to dream bigger?
What if, for a brief moment, you set aside your daily responsibilities?
What if you banished all thoughts of failure and dared to envision a life filled with happiness, success, and fulfillment?
What could you accomplish if fear simply had no place in your decisions?
As you embark on this transformative journey through our workshop, you will emerge feeling profoundly empowered to take bold and decisive actions in those areas of your life where change is long overdue. Armed with fresh strategies and a more empowering vocabulary, you'll be well on your way to becoming the best version of yourself.
Remember, life is meant to be lived on your terms—let's make it happen!
Always remember: You are significant. Your voice matters, and you deserve to be acknowledged and understood.
YOU ARE ENOUGH! Our goal is to guide you toward truly feeling this, because you deserve nothing less!